YOUR SKIN IS TRYING TO TELL YOU SOMETHING.
Current skincare routines have us using more products than ever, yet statistically, our skin has never felt worse. Over 50% of women—and rising— have reported experiences with skin sensitivity.
HORMONAL TRANSITIONS

Your body's hormones are always at work, but hormones particularly impact the skin during times of transition (puberty, pregnancy, menstruation, menopause)

LIFESTYLE & MENTAL HEALTH

How you treat your body and what you put in it (diet, exercise, sleep, stress) are all contributors to irritated skin

SUN EXPOSURE

Increased exposure to UVA and UVB rays are linked to damaging the skin surface and contributing to skin cancer

CLIMATE & POLLUTION

Where you live, what time of year it is, and pollution levels can all disrupt the microbiome

SKINCARE PRODUCTS

The average woman applies 128 ingredients to their skin daily, which includes harmful irritants, essential oils, fragrances, etc that kill off good bacteria and damage the skin barrier
SO WHAT THEN MAKES, OUR SKIN SENSITIVE?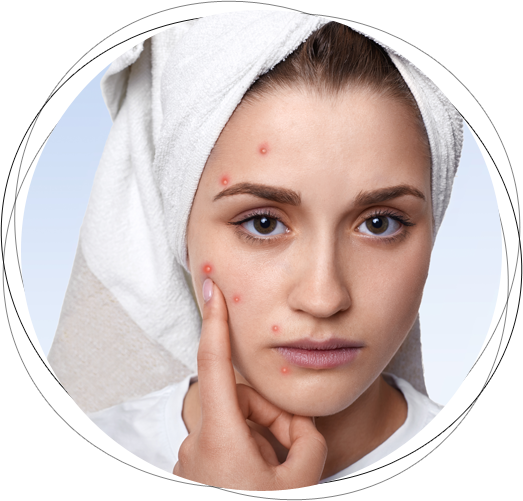 MICROORGANISMS LIVINGS ON OUR SKIN: MICROBIOME
TOP SKIN LAYER: STRATUM CORNEUM
YOUR SKIN ISNT SENSITIVE,
ITS SMART.
It recognizes these disruptors for what they are and is using irritation and inflammation to get your attention.
At Dr. EJ we're committed to understanding how each of these factors impacts the skin ecosystem and then creating products that keep your ecosystem in equilibrium.
It's led to a philosophy that emphasizes that we stop layering and start listening to create the best product we could make by adding to the skin only what it needs, and nothing more.
As a science-first company, we're challenging what's known every step of the way and pushing the boundaries of skincare research.
PIONEERING CITIZEN SCIENCE

Dr. EJ is the first brand in the US to be certified microbiome friendly, using only the gentlest ingredients on your skin.

We're working with our customers to deeply understand the inner workings of each of their ecosystems through personalized intakes and microbiome analysis.

We've built a dedicated R&D lab to help us develop the next generation of skincare.